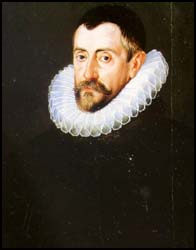 From Elena Maria Vidal's
Tea at Trianon
blog comes this story from
The Guardian
about a special exhibition at the National Portrait Gallery in London:
He was the eyes and ears of Elizabeth I, the loyal spymaster and ruthless counterterror chief: Sir Francis Walsingham was the man who knew everything. Or not quite everything, it seems. Certainly not that his portrait was secretly painted over an overtly Roman Catholic image of the holy Virgin and Child.

"He would not have been delighted," speculated Dr Tarnya Cooper, standing in front of the remarkable new discovery going on show at the National Portrait Gallery. "You do wonder if the artist might be enjoying a private joke."
The gallery on Thursday opened a display showing x-rays of devotional paintings it has discovered underneath its portraits of two key Tudor statesmen. As well as a Virgin and Child under Walsingham, researchers found A Flagellation of Christ under the Queen's lord treasurer Thomas Sackville.
The Walsingham portrait dates from the 1580s when Protestant England was isolated and supporting the war in the Netherlands against the Spanish.
"The Catholics are the absolute enemy at this period so the idea that you've got this wonderful devotional image underneath your portrait would probably be rather horrifying to him," Cooper, the NPG's chief curator, said. 

It was a surprise finding. "There is not very much that Walsingham does not know about of what's going on in courts across Europe, he has a huge network of informers, is an incredibly wily man and is someone with a public reputation. For somebody who is not wonderfully keen on Walsingham this would be a clever way of getting at him."
The NPG believes it cannot be accidental that after x-raying more than 120 Tudor portraits and mostly finding nothing, it found an image so emblematic of Roman Catholicism under Walsingham. "It is intriguing that it is under the spymaster-general," said Cooper.
You can see the portrait in question and the x-ray results
here
, although I find it hard to see the image behind the portrait on-line:
Recent technical analysis undertaken as part of the Making Art in Tudor Britain project has revealed that some of the Gallery's sixteenth-century portraits were painted over pre-existing paintings. This could have occurred for a variety of reasons and provides fascinating insight into artistic production during the period.
This display highlights two rare examples in which paintings with religious iconography have been discovered beneath portraits. Images generated by analytical techniques such as x-radiography and infrared reflectography are used to reveal the hidden paintings, and the portraits are also paired with loans from other collections to give an impression of the underlying compositions. The display also includes an interesting portrait with a fragment from a decorative scheme on the reverse, which suggests that it was originally intended to be viewed from both sides.
More on Francis Walsingham
here
.